Hi, I'm Robin and I'm from Wellington, New Zealand.
There are many things I am passionate about outside of work – singing, long-distance walking, travel, historic buildings, theater, movies, wine, meeting up with friends. But until recently, when it came to work, I was just going through the motions.
For a long time I questioned where my job was taking me and why I no longer felt satisfaction with my working life. Every day I turned up to work and opened my computer. I then made a cup of coffee (or two) while reading my emails, caught up with what needed to be done straight away, and then dealt with what the day offered. But underneath it all, I felt like I was on automatic pilot. I also had this nagging feeling that I was wasting my life away by just filling in time and waiting until it was time to go home for the day.
My misguided motivation
If I'm honest with myself, my main motivation for changing jobs over my working life was to earn more money. But of course this meant I usually found out in a very short time that it wasn't my ideal job. Another approach I used was that I only applied for roles where I knew I was capable of doing most of what was asked for in the job description. This of course meant I got bored in a new job really quickly as there was no real challenge. The reason behind me applying for these types of jobs was that I suffered from a crazy amount of under-confidence in my abilities. So rather than stretch myself and apply for jobs where I could grow, I applied for jobs where I knew I could do the work.
Another thing that started coming up for me was that I was starting to feel irrelevant and invisible. I'm sure it's not my imagination as I've spoken to many people in my age group (late 50s) and they all say the same thing. In many aspects of life you notice that you start to be treated differently because you've somehow reached a certain age. I knew I needed to change the way my life was heading so I went online to look for inspiration.
Learning New Skills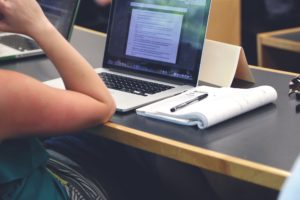 I love learning new skills so decided to see what online learning options were available. I didn't have a particular area I was looking into but just needed to find something which I could get my teeth into.
I ended up getting training in online marketing on a range of social media platforms and loved it. There's so much amazing stuff happening online which is changing all the time.
This lead me to training in empowering women to find their voice and I have recently finished training in leading women's circles – more about that soon.
I encourage you to keep learning – you never know where you'll end up.
All the best
Robin